Daybreak Addiction Treatment Solutions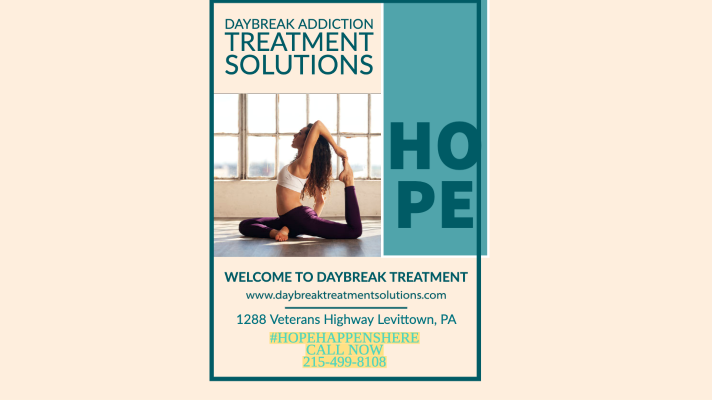 Premier Alcohol and Drug Detox in Bucks County Pa
Daybreak Treatment Solutions state-of-the-art alcohol and drug detox is ready to provide addiction treatment for you or your loved one.
Medical Detox in Bucks County Pennsylvania
Located less than an hour north of Philadelpha, our drug detox facility provides a safe and comfortable full medical detox off opioids, benzos, alcohol, stimulants and more. Healing the mind begins with purifying the body and few facilities do this as well as Daybreak Treatment Solutions can.
Our addiction experts carefully control withdrawal discomfort with state-of-the-art medicines and addiction therapies. The integration of all 5 ASAM levels of care allows us to deliver continuity of care that many less advanced addiction treatment centers simply cannot match.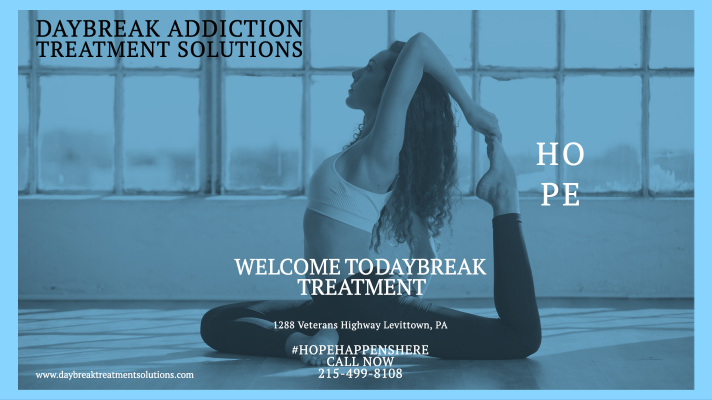 Alcohol and Drug Detox
Addiction treatment at Daybreak Addiction Treatment Solutions begins with our advanced drug and alcohol detox. Here you benefit from a safe and comfortable medical detox with 24-hour clinical supervision. Any withdrawal symptoms or discomfort will be carefully controlled as you rest and recover.
Daybreak is no ordinary addiction treatment program. While in our drug and alcohol detox program, you will have access to therapeutic massage, chiropractic services and more. Healthy and nutritious meals are prepared for you by our private chef.
Help for Addiction
Whether you admit to our drug and alcohol detox only or choose to complete the full Daybreak addiction Treatment Solutions program, you benefit from our first-class aftercare and support. Every patient receives a thorough discharge plan that acts as a blueprint for continued recovery
Addiction Treatment Programs
Addiction Treatment You Can Trust
At Daybreak, drug and alcohol detox is only the beginning. We offer a complete addiction treatment program here. Unlike most Florida rehabs, we feature all 5 primary ASAM levels of care you need within a single program.
Daybreak Treatment Solutions has earned Joint Commission Accreditation. We also enjoy membership in NAATP, state licensing .
5-Star Alcohol and Drug Detox
Daybreak Treatment Solutions puts fears of withdrawal discomfort to rest with our exemplary 5-star drug and alcohol detox protocol. We address not only physical comfort, but mental well-being and peace of mind at PA best drug detox facility.
You and the ones you love deserve the Daybreak Treatment difference. Our team is here to help you get yourself or your loved one safe and healthy again. Reach out to us now and we can help you or your loved one to begin the healing process. Recovery is ready when you are.
Daybreak Addiction Treatment Solution's Alcohol and Drug Detox
Daybreak Treatment Solutions is truly a complete addiction treatment program. This is why we deliver a full continuum of care here. From safe and comfortable medication-assisted detox and residential inpatient to PHP and IOP – all within the safe harbor of Daybreak Addiction Treatment Solutions.
Our drug detox will get you sober. The rest of the Daybreak Treatment Solutions program will help you build the recovery you need to stay sober. The willingness to change and an open mind are the only tools you need to transform your life with our help.
Holistic Alcohol and Drug Detox
Therapeutic massage, chiropractic services and nutritious and tasty meals prepared by our private chef are just some of the wellness features offered at our holistic alcohol and drug detox.
How Do I Admit to Daybreak Treatment Solutions?
Our system is streamlined and efficient. Just call us at (215) 449-8108. We will do an intake interview and insurance verification right over the phone. Once your intake is approved by our clinical director we move forward with your admission.
Approval usually happens quickly, then we arrange discrete ground transportation to bring you to our alcohol and drug detox center. Breathe easy. You or your loved one will be in good hands at Daybreak Treatment Solutions from start to finish.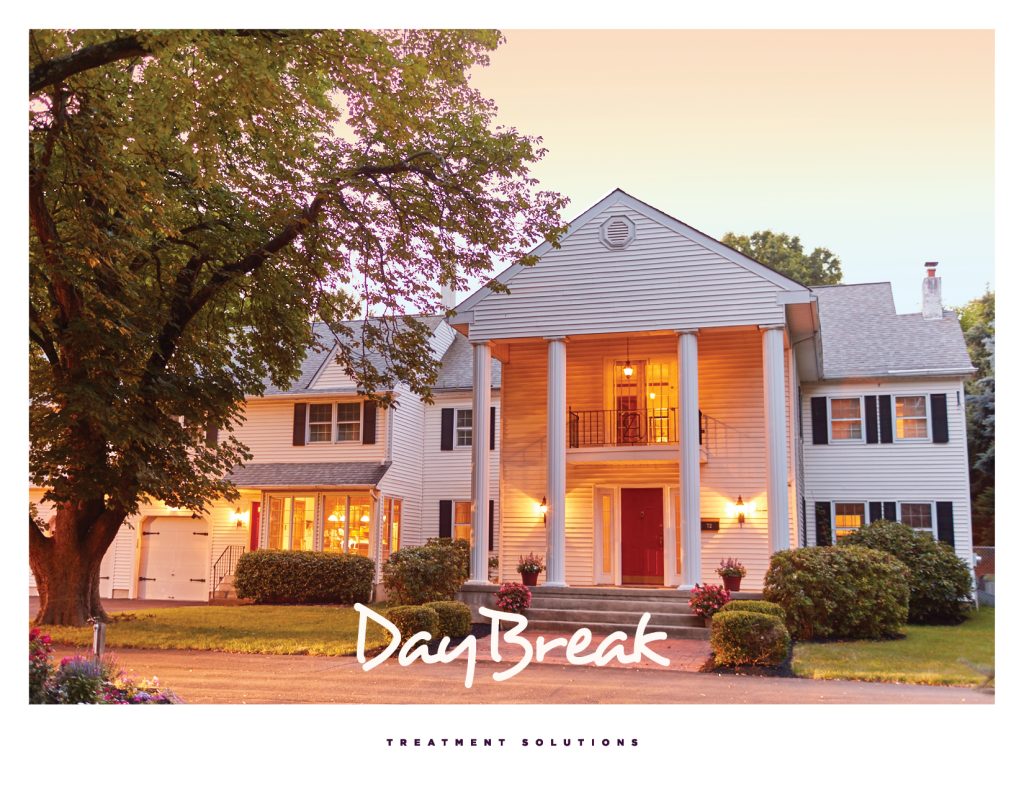 The admissions process at Daybreak Treatment detox is simple:
· Call us at (215) 449-8108 for an insurance coverage check.
· Complete a pre-admission phone interview with your admissions coordinator.
· Await admission approval to Daybreak Treatment Solutions alcohol and drug detox.
· Coordinate travel plans with us so we can prepare (or pick you up locally).
See What Our Clients Have to Say
Most wonderful people, not hard to see that they really care about you and your future, would put 10 stars if I could! – Jeff A.
This place saved my life. I will forever be grateful to the staff. They were kind, empathetic and knowledgeable. They helped me gain confidence. They taught me how to take care of myself. They gave me the foundation I needed for recovery and success. – Christina
Great staff all around. I was very happy with my experience! – Dana F.
Daybreak saved my life. Everything about the treatment was number one. Detox was absolutely what I needed. The staff was just awesome and when I went further in my treatment it got even better. The psychologist was so thoughtful and professional I owe her a lot – Lloyd B.
Best choice for a detox for a loved one of someone struggling, they went above and beyond and truly care about what do! – Jess P.
Amazing place. Couldn't have gotten sober without it. – Luke K.