5 Signs You're Addicted to Sleeping Pills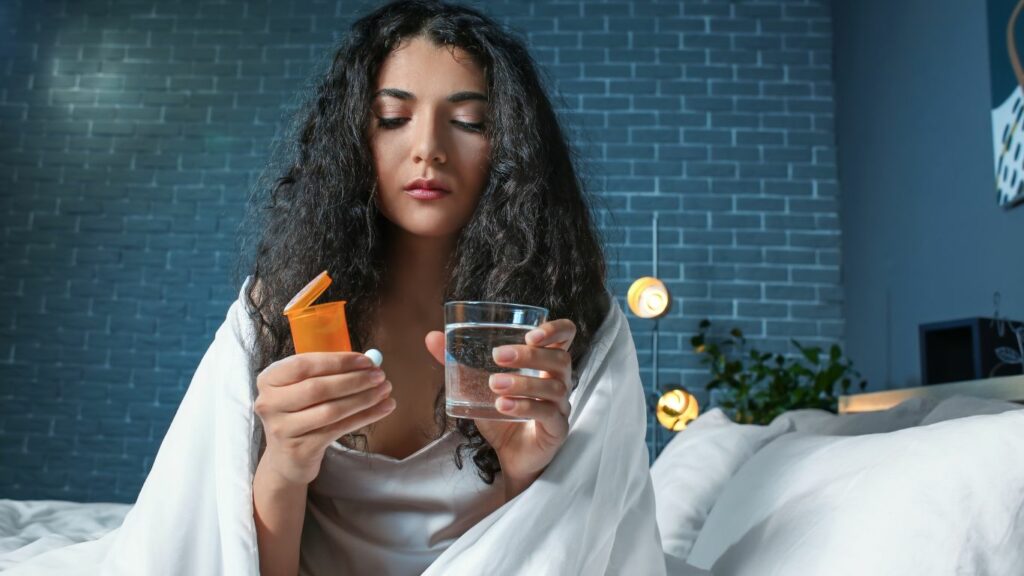 Risks of Taking Sleeping Pills
Taking an over the counter or prescription sleeping pill when you cannot fall asleep can be a quick and easy solution to help you get the rest you need by blocking receptors that promote alertness and affecting other receptors in the body that have to do with relaxation, heart rate, muscle movement, and attention.
Sleep aids are not meant to be taken every night, and there are risks associated with the effects of sleeping pill use like:
Inebriation with uncoordinated movements, slurred speech, cognitive impairment and falling asleep at inappropriate times
Persistent itching
Disturbing dreams
Shortness of breath
Lightheadedness
Developing a dependence
Anesthesia or loss of consciousness due to a high dose
High blood pressure and cardiovascular disorders
Accidents when driving, operating machinery, or other tasks while under the influence (and even the next day)
Overdose
Signs of Sleeping Pill Addiction
If you have been taking medication to fall asleep or have been abusing these medications in order to feel the hypnotic or numbing effects, you may be wondering how to tell if you are addicted to sleeping pills and are in need of professional help.
Some signs you're addicted to sleeping pills include:
Noticing the effect of sleeping pills is lessening as you develop a tolerance and need to take more to achieve the same effect
Experiencing disrupted sleeping patterns that make you feel like you need the drug to live a normal life
Noticing that your use of sleep medicines is negatively affecting your relationships, work, finances, or getting you into other trouble
Having withdrawal symptoms when you do not have access to the drug or when you try to cut back
Being unable to quit using the drugs even when you really want to
Call Daybreak Treatment Solutions today at (844) 695-0083 for help in overcoming your addiction.
Addiction Treatment for Sleeping Pills
The treatment methods for stopping taking sleeping pills vary depending on which drugs you were taking. Benzodiazepines often create severe withdrawal symptoms, especially if you have been taking a higher dose or taking them for a long period of time, so an extended inpatient detox and rehab program may be in order, followed by a medically assisted treatment plan to help you taper off your benzo usage. For other over the counter sleeping pills, you may be able to have a shorter medically supervised detox period followed by outpatient treatments, keeping you on track as you live your life as usual.
Detox and Rehab for Sleeping Pills
The DayBreak drug addiction treatment programs to help with stopping taking sleeping pills and sedatives are varied and individualized depending on your unique needs as a patient. Our medical detox program usually lasts between 3 to 10 days, with medications to help you get through withdrawal and detox safely, along with 24-hour medical care and psychiatric treatments for dual diagnosis programs if needed. You will have access to therapy and luxury treatments and amenities including your own TV and access to amenities like a movie theater, a holistic spa, and massage and salon services.
In detox and inpatient rehab, you will live inside our 100% sober living residence with a maximum of one other person in your semi-private room, with full-time support from credentialed, experienced, and non-judgmental staff.
We also offer outpatient rehab, where you live at home or in a sober living home and come in for treatments on a set schedule a certain number of hours per week. This way, you can remain surrounded by supportive friends and family, continue working or going to school, and live your life as normally as possible while getting the help you need. Outpatient programs at DayBreak include:
Partial Hospitalization Program (PHP) – full days of treatment 6 days a week, for 3 to 5 weeks
Intensive Outpatient Program (IOP) – a tailored program that usually begins at 3 hours a day, 5 days a week then tapers down to 3 hours a day, 3 days a week and lasting as long as you need it to
Rehab is customized to best suit your addiction, your preferences, and your post-rehab goals, with individual treatments, group therapy, case management, holistic therapy, relapse prevention programs, doctor's appointments and more.
Top Drug Rehab for Sleeping Pills at DayBreak
DayBreak treatment and rehab center is top-rated because we offer luxury rehab in the serene countryside of Philadelphia, providing the full continuum of care leading from medical detox through residential rehab, intensive outpatient rehab, partial hospitalization programs and other outpatient treatments, with long-term continued connections to sober community resources like:
12-step groups like Alcoholics Anonymous or Narcotics Anonymous
SMART recovery groups
Alumni groups and meetings
Sober living homes
We can help you through your physical dependence to substances through medication-assisted detox as you work through underlying reasons for addiction to sleeping pills and sedatives, helping you gain relapse prevention strategies, stress reduction techniques and coping mechanisms that will help you stay away from drugs and alcohol long-term.
Along with sleeping pill abuse, we help people through issues like meth detox, alcohol detox, crack cocaine and other drug detox, as well as addiction to bath salts, opioid addiction, cocaine addiction, and dependence on other medications and illegal drugs.
A sleeping pill addiction is not a life sentence. To learn more about DayBreak and how we can help you stop relying on sleeping pills and sleep aids for good, call us today at (844) 695-0083. We look forward to answering your questions and help you get started on your recovery journey.