3 Tell Tale Signs of Meth Use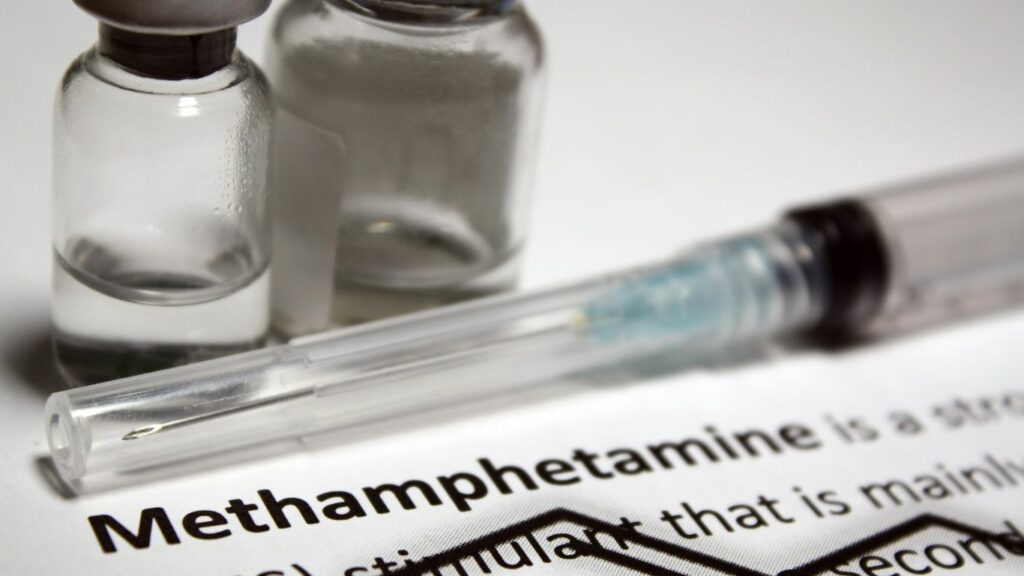 Learn to Spot Signs of Meth Abuse
Methamphetamine (commonly known as the street name "meth" or "crystal meth") is a potent synthetic drug that stimulates the nervous system and causes the brain to flood with dopamine. It produces a fleeting sense of euphoria that quickly wears off, creating a psychological dependence and compulsive drug use that can quickly lead to a person becoming a meth addict. Knowing meth addiction signs and symptoms can help you get your friend or loved one the help they need before their substance abuse turns to addiction and becomes hazardous to their health or spirals out of control.
Common Signs of Meth Use
As meth causes drastic changes in a person's mood, emotional states, behavior, and physical appearance, it is not usually an addiction a person can hide for long. People who abuse meth may begin to keep meth paraphernalia around, including glass pipes, aluminum foil, spoons, needles, rolled up dollar bills or other straw-shaped items, tourniquets, and little baggies. You may also notice they look different, act abnormally (they may seem jittery or quick to become angry) and become secretive or withdrawn.
1. Physical Signs of Meth Use
Meth use takes a toll on a drug addict's body over time. Common noticeable symptoms of meth addiction include:
"Meth Mouth" – rotting, broken, stained, or missing teeth, dry mouth, and inflamed gums
Track marks, sores, and scratches on the skin
Drastic weight loss
The person may also have red eyes that appear swollen, burn marks on their fingers or lips, and thinning hair that is falling out.
2. Emotional Signs of Meth Use
Meth users may think they are acting normally, but you will notice a person who is using meth may speak quickly in a rambling manner, and be much more hyperactive, with violent outbursts, irritability, mood swings, and paranoia.
These effects of methamphetamine abuse often become worse as the severity of the drug addiction increases. Mental health disorders and co-occurring disorders may also become worse due to meth use, and methamphetamine can cause mental illnesses like drug-induced psychosis, anxiety disorder, and major depression. For this reason, dual diagnosis treatment programs are often recommended for comprehensive meth addiction treatment.
3. Behavioral Signs of Meth Use
One of the most tell-tale signs of meth use is what is known as "tweaking". This is a state of extreme paranoia and irritability, with anxiety and insomnia due to using meth for a long period of time. The comedown phase of meth causes uncomfortable physical and mental sensations that cause a meth user to continue trying to achieve a high by continuously using the drug. This goes on for days at a time, as they forego food, sleep, day-to-day responsibilities, and personal care for drug use.
Other common behavioral clues that a person may be using meth include:
Beginning to lie or steal, even from close family members or friends
Not taking care of themselves, not eating or sleeping properly and taking dangerous risks for example
Withdrawing from friends and family, hanging out with new people, avoiding their usual hobbies and activities they used to love in favor of substance abuse
Call Daybreak Treatment Solutions today at (844) 695-0083 for help in overcoming your addiction.
Meth Rehab at DayBreak
At DayBreak drug addiction treatment center in Levittown, Pennsylvania, we are licensed to treat drug and alcohol addiction, along with dual diagnosis providing treatment for a mental illness or a co-occurring disorder with addiction (ex. borderline personality disorder, depression, anxiety disorder, panic disorder, bipolar disorder, etc.).
Our drug and alcohol rehab center offers:
A full medical detox, providing customized comprehensive medical and psychological care, including prescription medications to ensure your safety and comfort so you do not suffer during meth withdrawal
A luxury environment, including a holistic spa, massage and salon services, and movie theater access, with comfortable accommodations, with a maximum of 2 patients per room
Doctors and nurse practitioners on staff, and a low therapist-to-client ratio for more personalized treatment
Treatment programs including psychoeducational therapy, EMDR, trauma-focused therapy, relapse prevention planning, didactic therapy, gender-specific group therapy, and family therapy
Holistic treatment methodologies and strategies to heal the effects of meth addiction, like yoga, nutrition, music therapy, exercise therapy, massage therapy, and mindfulness
30 to 90-day inpatient rehab programs with one-on-one therapy, behavioral therapy, and group therapy
A 3-5-week partial hospitalization program (PHP) that is 6 days/week, running from 8:30 am-3:00 pm
A tailored intensive outpatient program (IOP) that integrates sober living into real life, with morning, afternoon, or evening schedules that are 3 hours per day, Monday to Friday
Outpatient gender-specific sober housing referrals to our preferred network of local recovery homes
Our inpatient residential treatment, partial hospitalization programs, intensive outpatient programs, and other drug addiction treatment plans are here to help you stop using crystal meth, take back control over your life, and gain the tools and community resources you will need to stay in long-term recovery.
If you or a loved one are struggling with a substance use disorder, are addicted to meth, or would like to learn more about payment information, substance use disorder treatment, drug or alcohol abuse treatment, or which type of treatment plan or level of care you would most benefit from (inpatient program or outpatient rehab), contact DayBreak drug rehab today at (844) 695-0083.